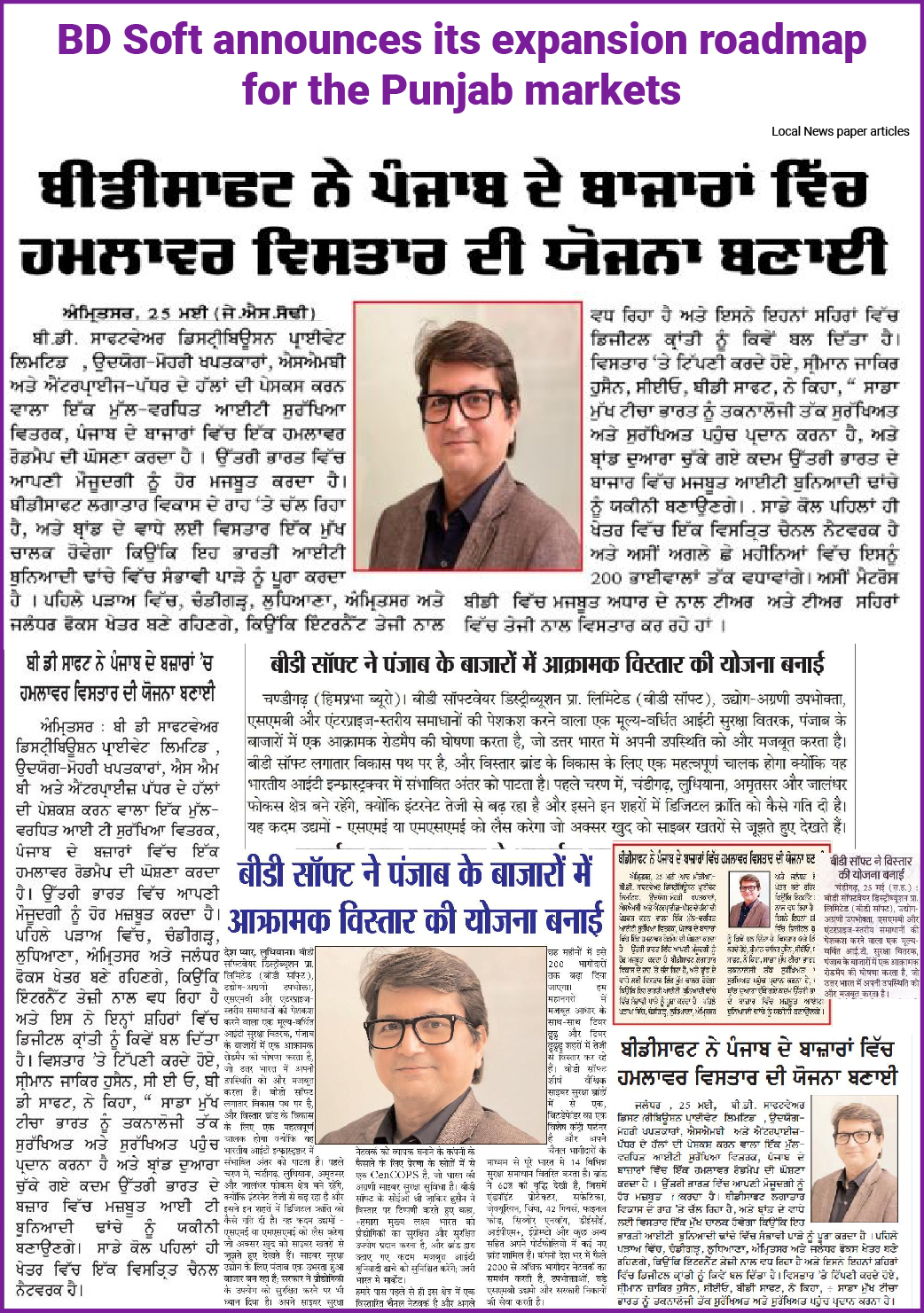 BD Software Distribution is set to strengthen its presence in North India by pursuing an ambitious roadmap in the Punjab markets. The company, known as BD Soft, has experienced consistent growth and aims to capitalize on this expansion to bridge the IT infrastructure gap in India.
The initial phase of the plan will concentrate on Chandigarh, Ludhiana, Amritsar, and Jalandhar, cities where the internet's widespread adoption has accelerated the digital revolution. This strategic move is particularly geared towards equipping small and medium-sized enterprises (SMEs) and micro, small, and medium enterprises (MSMEs) to counter cyber threats.
Zakir Hussain, the CEO of BD Soft, expressed his thoughts on the expansion, emphasizing the brand's commitment to providing a secure and safe technological environment in India. He outlined the intention to fortify the IT infrastructure in Northern India through an expanded network of channel partners, with a target of reaching 200 partners within the next six months. Furthermore, BD Soft aims to rapidly expand its presence in Tier II and Tier III cities, while maintaining a strong foothold in metropolitan areas.
As an exclusive country partner of Bitdefender, a leading global cybersecurity brand, BD Soft distributes 14 different security solutions throughout India via its channel partners. The company has demonstrated remarkable year-on-year growth of 60%, expanding its portfolio to include new brands such as Endpoint Protector, Safetica, Zecurion, Chimpa, 42 Gears, Final Code, Sewcure Envoy, DECE, IPM+, ePrompto, and others.
BD Soft currently supports a network of over 2,000 partners across the country, catering to the needs of consumers, large SMB enterprises, and government entities. With its aggressive roadmap, the company aims to reinforce its position as a key player in the Indian IT industry and contribute to the development of a robust cybersecurity ecosystem.